Attention: Ordering for EHI? Go here. Ordering for Turo? Go here.
Order Now
Ready to refresh your fleet? Need to reorder? Click below to place your order today.
Note: Smart Tumbler is designed for fleets only and is not available for individual/personal use at this time.
Starter Kits
Start here with a Smart Tumbler odor elimination device and your choice of treatment tablets.
Tumbler + 25-pack
Heavy-Duty Tablets
$250.00
Buy Now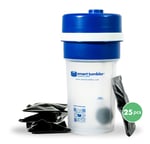 Tumbler + 25-pack
Light Tablets
$225.00
Buy Now
Light Treatment Tablets
To remove odors after every vehicle turn, try our new Light treatment option for as little as $3/tablet.
Heavy-Duty Treatment Tablets
If you're facing tough odors like cigarette or marijuana smoke, try our Heavy-Duty option for as low as $5/treatment.
Subscribe & Save
Get the most affordable odor elimination on the market with our monthly subscription options.
Need to cancel or modify your subscription? Click here.