General
What are Spiffy's hours of operation?
We operate sunup to sundown, 7 days per week, with the exception of major holidays.
What is Spiffy's weather policy?
At Spiffy, we understand that the weather can be unpredictable. In the event of inclement weather, such as sub-freezing temperatures, severe storms, excessive wind, rain, sleet, or hail, we're more than happy to continue services in covered areas like garages, parking decks, or car ports.
If no covered areas are available, our dedicated technicians will assess the situation, and our scheduling team will gladly assist you in finding a more suitable time for your service. And don't worry, we will never charge a fee for weather-related cancellations. We're here to make your Spiffy experience smooth, come rain or shine!
While we'd love to help in every way possible, unfortunately, we're unable to offer rain checks for a free service if it rains after your car wash.
What's the difference in Sedan versus Not Sedan?
To simplify and streamline Spiffy's scheduling process, we've categorized vehicles in two distinct classifications: Sedan and Not Sedan.
Sedan: Think small. Typically, 4 doors or less and 2 rows of seats or less, with a separated, enclosed trunk area. For example, sedans, coupes, and convertibles. Exceptions? Small hatchbacks.
Not Sedan: Think large. Typically, 4 doors or more (rear hatches count) and 2 rows of seats or more, with an open trunk area. For example, minivans, pickup trucks, crossovers, station wagons, and SUVs.
Why did you raise the price of [insert service here]?
Due to increasing wages for Spiffy Technicians nationally, as well as rising costs of supplies required for our services, we've made some changes to our service menu in order to maintain our high-quality standards.

If you use Spiffy at your office, you'll continue to receive discounts off of the updated retail pricing: $10 off Spiffy Car Wash, Spiffy & Shine, and Oil Changes, and $20 off Awesome and Totally Awesome Details.
I have a promo card/service menu with different prices, can I still book appointments at those rates?
No, our pricing changes went into effect on September 8th, 2023 and the booking experience reflects our current service pricing. We understand the potential inconvenience, but these changes are necessary to ensure we can continue to provide the best service possible.
If you are curious about specific services, you can always go to getspiffy.com/services or check the Spiffy mobile app for the most up-to-date pricing.
My office is closed. Can I use my Spiffy Partner discount for services at home?
Yes, you can enjoy the same great perks for car care that you did at the office, from wherever you are! Use the promo code SPIFFYCLEAN to get $10 off services 2-3 or oil change, and $20 off services 4-5.
Why can't I book the service I want?
Currently, certain service offerings are only available in select markets as we pilot new services and roll others out nationwide. If you are looking for a particular service and don't see it, please let us know. Your city could be next!
What is your policy if there is a problem with my Spiffy service?
Our Spiffy promise is to leave every customer satisfied with a clean and/or serviced vehicle, and if you are disappointed with your service, we want to make it right as soon as possible. Call (844) 438-7743, click the chat button below, or send an email to support@getspiffy.com within 7 days of your original appointment, and a member of our Customer Care team will promptly work with you to find the best solution, beginning with a complimentary "make-good" service. Make-good offers are valid for up to 30 days from the offer date.
What is your policy about vehicle damage?
If there is ever damage to your vehicle that is caused by our technician during your Spiffy appointment, we will work with you to ensure that it is taken care of. We cannot take responsibility for any maintenance issues present in your vehicle prior to a Spiffy appointment, such as jammed windows and cracked windshields.
Are there any services you do not warranty?
We do not warranty the Spiffy engine clean upgrade. This service uses high-pressure hot water, steam, and degreasing chemicals that can uncover pre-existing electrical issues. If you suspect engine trouble, please do not book this service.
We occasionally offer headliner cleaning on a case-by-case basis and do not warranty that service due to the potential for damage.
Can Spiffy Technicians drive manual transmission?
Spiffy understands that while manual transmissions are becoming less common, the love for them isn't. We will work with you to schedule your service on a technician trained on these vehicles, or will find a time convenient for you to assist in moving it. Our technicians will not attempt to drive a manual transmission unless they are trained and confident in doing so.
How does Spiffy's Referral program work?
You'll get $20 in your Spiffy account every time a friend or coworker completes their 1st Spiffy service 2-5 using your referral code. After you share their email addresses, Spiffy will email them your referral code. It's important they use the email address you provide when they create their account and book their 1st service because you earn your credit when their 1st service is complete.
Does Spiffy need my keys?
Yes, the technician will be in contact with you to collect and return your keys. If your service is being performed at one of Spiffy's Partner Locations, you can drop your keys in the Spiffy Key Exchange System.
How are you protecting your employees from extreme weather?
Extreme weather conditions are always top of mind with our Spiffy Technicians, whether it's hazardous heat or cold weather. We routinely emphasize the importance of taking a 10-minute break every hour to cool off or warm up in our vans, in addition to providing the resources to promote positive health habits.
How are you protecting your employees and my vehicle from COVID-19?
The safety of our employees and customers is our top priority. To that end, we've set up a number of protocols to protect you from the spread of COVID-19:
Zero-contact appointments for employee and customer health
Use of company-provided PPE - including masks, gloves, and safety goggles - each day
Use of hand sanitizer, and handwashing when available
Daily temperature checks
Any Technician who tests positive for COVID-19 is required to stay home for a 5-day quarantine, which is covered under our COVID leave policy. Employees can return to work after the quarantine period if they provide a negative test result and have no symptoms.
What should I do if I find that Spiffy reported incorrect information to CARFAX® Vehicle History Reports™?
In the case that you find incorrect information was reported by a Spiffy Technician, please contact our support team by emailing support@getspiffy.com or calling us at (844) 438-7743 with the following information:
Your Full Name and Date of Service.
The vehicle that was incorrectly reported on.
The item that is incorrectly reported and the correct information.
We will deliver this information to CARFAX® and work with them to get it corrected as quickly as possible.
---
Wash & Detail
How long will my Spiffy Service take?
Service times vary based on weather and the condition of the vehicle, including any interior clutter or stains. We will reach out to you in the event of any unforeseen delays in your service.
What is the difference between a wash and detail?
A detail is a deep clean of your vehicle that will return it to like-new, mint condition. Our menu items 4-5 are detail services.
A wash maintains your vehicle to keep it looking like new. Menu items 2-3 are wash services.
Do you charge extra to handle biohazards?
Yes. If any biohazard or bodily fluid is present in the vehicle, such as blood, urine, feces, or vomit (human or pet), then we apply an $80 fee to your appointment. This covers the extra time that the technician will need to spend in the area, special biohazard protective gear, and the strongest chemicals necessary for cleaning your vehicle.
Why are you now charging for trim/running boards?
We upgraded our product from a temporary water-based protectant that washed off after the first rain to a specially formulated plastic trim restoration which we now guarantee for 3 months.
Does Spiffy need access to water or a hose?
We do not, our vans are fully self-contained and we bring all of the equipment necessary to complete your appointment, all we need is your keys!
Can Spiffy use products I own to complete my service?
All of our products have been tried and tested to ensure quality, we will perform services with our own supply of materials to make sure you get the most of your Spiffy service.
What brand of products does Spiffy use most often?
Spiffy partners with Simoniz® for our cleaning and detailing products. Simoniz is the worldwide industry leader in car appearance chemicals. Additionally, all of our technicians are Simoniz Certified experts in car washing and detailing.
Why don't you use water when shampooing my seats?
In order to avoid the formation of mold in the inner foam upholstery layer, we do not use products that require water when cleaning seats. Instead, we spray a waterless shampoo product and utilize an orbital spin brush to thoroughly spread the product into the fabric. Not only does this method prevent mold by drying faster than water, but it removes dirt and grime on top and within your seats.
Please note: some stains are difficult to remove, depending on the cause and how long they've been present in your vehicle. While every effort is made to treat all stains, we cannot guarantee complete elimination.
---
Appointments/Booking
Why can't I book my Spiffy appointment today?
It's our goal to schedule your Spiffy appointment for the preferred date and time that you request. However, if we are unable to book your appointment for a specific day, then there are a few reasons why:
Our Spiffy technicians are fully booked for the day and can't fit your appointment in.
The location you're booking from is a part of our "Spiffy Partner Pricing" program and our technicians only come to you on a specific day each week.
The date you chose is a holiday.
How do I know my appointment is confirmed?
Spiffy will send you an email, text or in-app message depending on your preferences when your appointment is confirmed. Your Technician will arrive within a 30-minute window of your appointment time and your appointment should be completed by the promised end time. If something unexpected comes up that will slow the Technician down (oh no, this car is covered in fill in the blank), we will let you know the impact on your service timing and cost.
What if I need to cancel my appointment?
Once an appointment is confirmed, you can cancel at no charge up to 24 hours prior to your scheduled service time. If you cancel a residential appointment within 24 hours of the scheduled start, Spiffy may apply a $15 cancellation fee to cover the costs of rerouting our Technicians. We will never charge a fee for weather-related cancellations.
How do I get you my keys?
Spiffy is offered as an amenity at hundreds of office parks, apartment complexes, and parking decks. If your location offers Spiffy as an amenity, feel free to give us a call, or ask your property management team about Spiffy's key process at your location.
If you are receiving an at-home service, our technicians will contact you upon arrival to retrieve your keys.
Can I request a specific technician?
For best scheduling availability, we don't recommend requesting a specific technician. Spiffy's scheduling process is designed as a "first come, first serve" system. Services that come in are equally distributed to technicians based on location, time, length of service, and availability. As a result, we do not accept these requests, in order to provide all of our customers with the best availability.
---
Payment
How do I pay?
Once your service has been completed, you will receive an email, text or in-app notification depending on your preferences to "Rate & Pay" for your service. You can then log in to your Spiffy mobile app or Spiffy website to provide feedback about your service, submit payment, and provide an electronic gratuity for your technician.
Spiffy accepts eGift Cards, Apple Pay, and all major debit/credit cards: Visa, MasterCard, Discover, and American Express. For your convenience and the safety of our technicians, Spiffy specializes in cashless transactions. We do not accept cash payment nor do we carry cash onboard our vans.
Why is there a charge on my credit card before my service?
Don't worry. It's not a charge. We never charge your card until we do the work and give you 48 hours to rate and pay.
We do place a hold (or pre-authorization) on the funds to cover your full service 48 hours before your appointment, which you may see on your account as an "authorization" or a "hold."
If you cancel your appointment, we release the hold immediately, but it might take 3-5 business days for your bank to clear the hold.
Why was I charged twice?
We will only charge you once for the exact service and upgrades you order. We may add a second charge if you decide to tip.
Spiffy places a hold (or pre-authorization) on the funds 48 hours before your appointment and releases the hold after your service is complete or immediately if you cancel your appointment.
Sometimes, an authorization hold isn't processed by your bank at the same speed as the actual charge - leading your account balance to appear as if you were charged twice. When you check the charge, you'll see the hold stays in pending status, until it disappears from your account
Why is there a $1 charge on my credit card?
You may see a $1 charge on your account after you add a credit card. We do this to verify your payment method. This authorization hold will drop from your account shortly.
How long does it take for the authorization hold to be released?
Spiffy releases the hold immediately after your service or cancellation. This normally takes 3-5 business days to reflect in your account.
Please contact your financial institution if you'd like more information about a specific charge on your statement.
Where do I enter my promo code?
iPhone/Android Users: When scheduling your Spiffy service, you will be prompted for a promo code after selecting your date and time. Select "Have a promo code? Tap here." You can enter promo codes on that screen, as well as after the service is completed and you are prompted to "Rate and Pay."
Web Users: Promo codes can be added in our web portal after the appointment has been scheduled by clicking into the appointment, and selecting the green "Add Promo Code" button. It can also be added after the service as been completed and you are prompted to "Rate and Pay."
Does Spiffy keep a percentage of Technician tips?
No, 100% of any added tip amount goes straight to your Spiffy technician!
Is my stored credit card information safe?
While we require you to store your credit card to pay for Spiffy services, we utilize a tokenization system that only accesses your information when it is necessary to make a payment. Your card number is encrypted and stored off-site so that you're protected from the damage of a data breach.
---
Spiffy Oil
What brand(s) of oil do you use?
Spiffy recently partnered with Shell Lubricants and is transitioning to Pennzoil with PurePlus™ Technology motor oil for all consumer oil changes.
Do you use full synthetic oil?
Yes, Spiffy uses full synthetic oil for all consumer oil changes.
What is the difference between synthetic oil and conventional oil?
As per the Pennzoil® website, "Synthetic motor oil has gone through a chemically engineered process. Synthetic oil molecules are more uniform in shape with fewer impurities and better properties than conventional oil molecules. In general, synthetic oil has better extreme high temperature and low temperature performance. Synthetic oils are generally formulated with higher performing additives." Simply put, synthetic oils provide higher levels of protection and performance, which usually enables longer oil change intervals compared to using conventional motor oil.
How long can I go between Spiffy oil changes?
Spiffy suggests 7,500 miles between oil changes. To help you remember, we place an oil change reminder sticker in the corner of your windshield upon completion of every oil change. If your car is under warranty, we always recommend following factory recommendations or your vehicle's oil life monitoring system.
Does a Spiffy oil change include a new oil filter?
Yes, all Spiffy oil changes include replacement of your vehicle's oil filter.
Does a Spiffy oil change include topping off of fluids?
Yes, Spiffy tops off antifreeze and windshield washer fluid for all consumer oil changes.
Do you reset my vehicle's oil change reminder lamp?
Yes, Spiffy resets your vehicle's reminder lamp and places a reminder sticker in the corner of your windshield upon completion of the oil change.
Do I get special pricing through my employer?
Possibly. If your workplace is a Spiffy Partner, you receive discounted pricing for Spiffy oil changes as well as Spiffy car washing and detailing. To confirm whether you are eligible for discounted pricing, please contact our Spiffy Customer Care team at 844-438-7743 or support@getspiffy.com.
What is included in my multi-point inspection?
As part of every consumer oil change, Spiffy checks and replaces your vehicle's oil, installs a new oil filter, checks and replaces lost antifreeze and windshield washer fluid, and resets your vehicle's oil change reminder system.
---
Spiffy Tires
Where is this service available?
The new Spiffy Mobile Tires service is available in Spiffy markets including Atlanta, Buffalo, Indianapolis, Las Vegas, Orlando, and Raleigh-Durham, with more markets coming soon.

Which tires are offered in the app?
Spiffy offers up to three makes and models of tires for the exact specifications of your vehicle. The options are a blend of value and performance, and they usually include the original model tire that was on the vehicle when it was new. You'll need to know your wheel size before you order.
How do I know the size of my tire?
Information about your tire size will be located on the tire. Here's a visual. To order, you will need the wheel size number.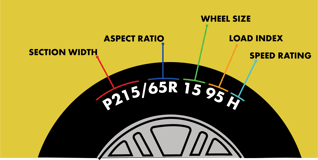 How does scheduling work?
Your tires are ordered when your service is confirmed, and usually arrive within 48 hours. We will do our best to accommodate your appointment as soon as possible, usually within 48-72 hours.
How often should tires be replaced?
Aside from a puncture or leak the biggest indicator that it's time for a new tire is the tread, if the tread is worn the vehicle is not safe for operation, and needs to be replaced. Regardless of mileage, tires should be replaced every 5 years.
How can I test the tread depth of my tires?
The easiest way to check tread depth is the Penny Test. Take a penny and place it in the tread grooves with Lincoln's head facing you, if the grooves cover Lincoln's head, your tires are safe for operation.
Do I need to replace all four of my tires?
With an all-wheel drive vehicle, it is recommended to replace all four tires at the same time to ensure they are all the same diameter, and that wear and tear is even across all of them. With a front-wheel drive vehicle, it is recommended to replace at least the front two tires of the vehicle at the same time.
What is a Run Flat tire?
Vehicles with a Tire Pressure Monitoring System may be equipped with Run Flat tires, these tires are designed to last in an event that they contain no air, to help the driver control the vehicle until they are able to replace the flat.
If you have a run flat tire, the information will be located on your tire, near the manufacturer's information and numbers. Look for markings such as "ZP", "RTF", "SEAL" or the words "Run Flat". Different manufacturers use different codes for run flat.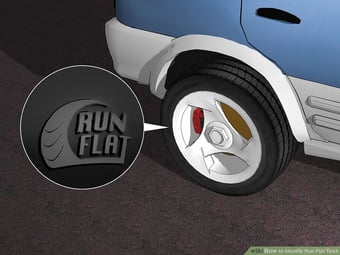 How do I know if I have snow tires?
If you have snow tires, this symbol will be present on the tire, near the size information: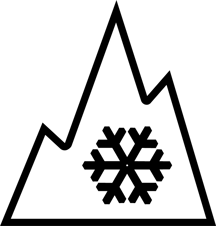 Does Spiffy perform tire alignment?
We do balance the tires, but we do not perform tire alignment because the equipment to do an alignment is not currently mobile.
Can you rotate my tires?
If you are replacing less than 4 tires and your existing tires need to be rotated, please let our Customer Care team know before your scheduled service via the app, or give us a call at 844-438-7743.
How long will it take to replace my tire(s)?
Depending on how many tires need to be replaced, the service will typically take 1-2 hours to complete.
Does Spiffy need my keys?
Yes, the technician will be in contact with you to collect and return your keys. If your service is being performed at one of Spiffy's Partner Locations, you can drop your keys in the Spiffy Key Exchange System.
How is this a "green" approach to tires?
Spiffy sends used tires to PRTI processing plants, which can demanufacture up to 192,000 pounds of tires per day and break them down into carbon char, steel, and oil with only 20 minutes of propane-powered heat.
What are the installation and recycling fees?
We charge a competitive installation fee per tire. Recycling fees cover the cost of local and regional tax mandates. Spiffy goes an extra step to dispose of tires in an environmentally friendly way.
How does payment work?
When your appointment is confirmed, we will pre-authorize the payment on your credit card. After your service is complete, we charge your credit card.
---
Spiffy Brakes
Where is this service available?
We currently offer mobile and fixed-site brake services in Atlanta, Austin, Buffalo, Charlotte, Dallas-Fort Worth, Fort Lauderdale, Greenville SC, Knoxville, Las Vegas, Los Angeles, Memphis, Miami, Nashville, Orlando, Phoenix, Raleigh-Durham, San Francisco, Seattle-Tacoma, and Tampa, with additional markets coming soon.
How are brakes priced?
Our brakes service starts at $350 per axle, which includes brake pads and rotors.
How long does it take to change my brakes?
Brake services can vary based on the vehicle, so we offer a 2-hour estimate per axle to cover models with longer service times.
How do I know when to change my brakes?
You should consider a brakes replacement service if you experience the following when you hit the brakes:
Squealing or grinding noises
Moving or shaking steering wheel
Pulsation in the brake pedal
Do you inspect my brakes to make sure replacement is necessary?
Yes! Our Technicians perform a visual inspection and a test drive inspection consisting of four right turns to confirm your brakes are ready to be replaced.
Do I have to replace all my brake pads at once?
No, but you should replace them as a set. Brakes are usually replaced per axle, either the front or back.
What type of brake pads do you use?
We use ceramic brake pads, which are quieter, produce less dust or particles over time, and are more reliable in a broad range of temperatures and driving conditions.
Can you just replace the brake pads?
No, to provide the safest experience possible, our technicians replace the rotors and pads on every service.
Do you service drum brakes?
No, at this time we do not service drum brakes.
Do you "turn" or resurface rotors?
No, we don't turn or resurface rotors. We replace rotors with each service to ensure a clean surface for brake pads along with a guarantee warranty for each pad.
What about my brake fluid?
We don't currently offer a brake fluid replacement service.
---
Fleet
How do I reach out to schedule services?
Please contact our Fleet Account Management team at 844-438-7743 option 2, or fam@getspiffy.com.
What services do you offer?
Spiffy offers a variety of services, from detailing and PMs to in-fleeting and de-fleeting. Visit our Fleet page for more information and speak with a Spiffy sales representative today about your fleet's needs.
How long do services generally take?
Service length can vary based on service and vehicle type. Your Spiffy fleet account manager can provide you with estimations for all of your services.
How many services can you do at once?
The sky's the limit at Spiffy. With enough notice, we can dedicate enough resources to handle even the largest of fleets.
Do you need advance notice to schedule services?
We work hard to accommodate our clients' needs as our schedule allows. Contact your fleet account manager today to check on availability and to get scheduled.
How can I get on a recurring schedule?
Let your fleet account manager know that you require a recurring service schedule, and they'll be happy to oblige!
How does billing work?
Spiffy is proud to work directly with fleet management systems like AutoIntegrate to streamline invoicing and payment. We also offer standard Net30 terms, as well as secure credit card processing.
Why hasn't a PM cleared in my system through Auto Integrate?
It may be possible the service is still in process or is awaiting your approval. If neither of those seems correct, please contact our Fleet Account Management team.
Whom do I talk to about issues with a service?
Please contact our Fleet Account Management team at 844-438-7743 option 2, or fam@getspiffy.com.